---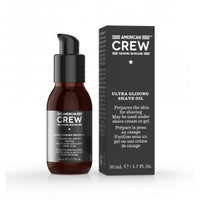 This exclusive range of products from American Crew enhances the modern man to feel sleek, confident, and strong every day.
Prevents irritation caused by shaving using just a small amount.
This non-greasy oil creates a barrier for a close, effortless shave and prevents nicks, razor bumps and ingrown hairs
Contains Eucalyptus, cloves, a natural oil blend, rosemary & light oil.
Oil softens beard hair more quickly than cream and the natural astringents penetrate pores, refresh and cool skin while clearing away excess oil, impurities and dead skin cells.